Terrore e carcere: Israele, licenza di uccidere
Terrore e carcere: Ricordare l'11 settembre (1973)
Terrore e carcere: IN YEMEN'S SECRET PRISONS, UAE TORTURES AND US INTERROGATES
By Maggie Michael
Information Clearing House
MUKALLA, Yemen (AP) — Hundreds of men swept up in the hunt for al-Qaida militants have disappeared into a secret network of prisons in southern Yemen where abuse is routine and torture extreme — including the "grill," in which the victim is tied to a spit like a roast and spun in a circle of fire, an Associated Press investigation has found.
Terrore e carcere: DDL GAMBARO: ARRIVA LA CENSURA ONLINE
Se foste stati eletti nelle liste di un movimento nato e cresciuto online, se poi fossero successi incidenti, vi avessero espulsi e aveste occupato la legislatura in un lungo pellegrinaggio fra i più cangianti gruppi parlamentari (Misto, Gruppo Azione Partecipazione Popolare, Italia Lavori in Corso…) per poi approdare alla corte di Denis Verdini (sì, il gruppo di Ascari inviati da Berlusconi in missione dall'altra parte dell'emiciclo per tenere in vita i vari governi del PD)…
Se aveste votato la fiducia a qualsiasi ipotesi di governo avesse il coraggio di presentarsi alle camere, e se nonostante questo, a legislatura ormai agli sgoccioli, vi trovaste senza una reale possibilità di essere ricandidati, cosa fareste?
Terrore e carcere: PERCHE' LA FOTO DI SALAH ABDESLAM E' STATA RITOCCATA?


DI ROSANNA SPADINI
comedonchisciotte.org

Il concept album è sempre più ossessivo e ripropone i soliti modelli puntuali, due fratelli nel ruolo di kamikaze uno puntualmente morto, l'altro puntualmente in fuga. Parigi 13 novembre 2015, Bataclan, i fratelli Abdeslam. Un puzzle apparentemente indecifrabile, un canovaccio improvvisato su spazi d'arte pervasivi, che ad ogni nuovo attentato terroristico invece si ripresentano in termini monotoni e sempre uguali … scenografie da incubo colluse con le stesse confezioni antologiche abbastanza scontate, quasi fossero gli intrighi che Ray Donovan deve quotidianamente disbrogliare nella sua Hollywood sontuosa e bastarda.
Terrore e carcere: MY 40 YEARS IN PRISON
Leonard Peltier
www.counterpunch.org
What can I say that I have not said before? I guess I can start by saying see you later to all of those who have passed in the last year. We Natives don't like to mention their names. We believe that if we speak their names it disrupts their journey. They may loose their way and their spirits wander forever. If too many call out to them, they will try to come back. But their spirits know we are thinking about them, so all I will say is safe journey and I hope to see you soon.
On February 6th, I will have been imprisoned for 40 years! I'm 71 years old and still in a maximum security penitentiary. At my age, I'm not sure I have much time left.
I have earned about 4-5 years good time that no one seems to want to recognize. It doesn't count, I guess? And when I was indicted the average time served on a life sentence before being given parole was 7 years. So that means I've served nearly 6 life sentences and I should have been released on parole a very long time ago. Then there's mandatory release after serving 30 years. I'm 10 years past that. The government isn't supposed to change the laws to keep you in prison — EXCEPT if you're Leonard Peltier, it seems.
Terrore e carcere: NON SOLO EGITTO (GIULIO E LA TORTURA)
FONTE: ROSSLAND (BLOG)

Qualcuno fatica forse a immaginare che il povero Giulio Regeni possa essersi trovato nel posto sbagliato al momento sbagliato (le manifestazioni di Piazza Tahrir per l'anniversario della caduta di Mubarak), e che sia finito arrestato insieme ad altri manifestanti, quindi portato in carcere e lì torturato?

Forse pensiamo che questa ipotesi sia "poco credibile"?
Che non si pratichi la tortura nelle carceri egiziane?
Uhmmm.

Che a nessuna persona "normale" possa mai capitare di finire nel posto sbagliato nel momento sbagliato come probabilmente è successo a Giulio?
Uhmmm.

Come alcuni terribili casi italiani dimostrano (da Bolzaneto a Cucchi), la tortura e il pestaggio sono pratiche in uso non solo in Egitto o in qualche sperduto paese sudamericano, ma nelle carceri di molti altri civilissimi paesi occidentali (Guantanamo per tutti, ma senza dimenticare l' extraordinary rendition, pratica illegale tutta occidentale).

Il punto è che Giulio ha (forse) sperimentato la brutalità del mondo parallelo, quello dell'illegalità praticata da chi della legalità dovrebbe essere garante.
Terrore e carcere: L'ESECUZIONE DI AL NIMR: UNA MOSSA POLITICA INTELLIGENTE


FONTE: MOON OF ALABAMA

Il governo saudita ha dato seguito all'esecuzione di 47 prigionieri che, da lunga data, erano stati condannati a morte per terrorismo e per ribellione contro il governo.

Dal punto di vista del governo saudita è stata una mossa politica intelligente.

I sauditi sono nei guai per la guerra nello Yemen. Dopo nove mesi di bombardamenti che hanno fatto vedere l'inferno in quel paese non c'è nessuna possibilità che l'obiettivo della loro guerra – cioè reinstallare un governo fantoccio a Sanaa - possa realizzarsi in tempi brevi. Mentre le forze yemenite fanno continui raid (vid) su una città saudita dopo l'altra, anche i progetti sauditi di cambiare i regimi per mezzo di jihadisti salafiti sia in Iraq che in Siria stanno vacillando. Il prezzo del petrolio troppo basso rende necessario che il governo saudita introduca le tasse sul suo popolo e le tasse, quasi sempre, non rendono più popolare.

Per distogliere la gente da questi problemi i sauditi hanno deciso di sbarazzarsi di un gruppo di prigionieri e utilizzare questo evento per riguadagnarsi una certa legittimità. Molti dei 47 uccisi erano veramente marmaglia di al-Qaida che, dieci anni fa, aveva ucciso e fatto saltare in aria interi edifici in Arabia Saudita e aveva provato a rovesciare con la violenza il governo saudita.
Terrore e carcere: APPEAL ABOUT THE FATE OF ANA BELEN MONTES
thesaker.is

To all our American progressive friends:

We are writing this note to you from Cuba with a heartfelt desire to let you know about the formation of the Cuba Committee, which presently manages the campaign for a better treatment and a possible pardon for Ana Belen Montes

She is an American citizen who was able to sense a different future between our country of Cuba and the United States. A future where both nations would procure to conduct with each other within the parameters of a relationship based on friendship. Ana Belen was able to foresee a change of the United States government policy toward Cuba that "would bring our government back in harmony with the compassion and generosity of the American people. It would allow Cubans and Americans to learn from and share with each other. It would enable Cuba to drop its defensive measures and experiment more easily with changes. And it would permit the two neighbors to work together and with other nations to promote tolerance and cooperation", as we are slowly learning to do since December 17, 2014.

(Ana Belén Montes : dessin d'Ernesto Robles)
Terrore e carcere: THE POLITICS OF PRISONS AND PRISONERS
by Steve Martinot
counterpunch.org

They are getting ready to activate another super-max prison. This one is a reconditioned prison built a decade ago in Thomson, Illinois. Like Pelican Bay, Marion, and Florence, this prison will be dedicated to holding people in solitary confinement. They say it will double the federal government's isolation capacity. They say it is for "the worst of the worst." But we know what that means. They pretend to refer to the incorrigibly violent, but we know it refers to political prisoners. Prison administrations have nothing against violence. They use violence as part of their very profession. A prison system is already a form of violence (kidnapping). Torture occurs there free of any accountability. They even use violent "offenders" for the purpose of "getting" someone they don't like (Yogi Pinell, for instance). And they make a game of instigating "gladiator" contests between prisoners (which sometimes give guards a chance to shoot someone).
Terrore e carcere: INJUSTICE SYSTEM: DEATH PENALTY FOR BOSTON MARATHON SUSPECT


Original Title: Death Penalty for Boston Marathon Suspect Drives Nail in the Coffin of US Justice System


By Joachim Hagopian
Global Research, May 16, 2015

With the jury's verdict now in sentencing an innocent man to death, the US justice system is sinking ever lower in its moral decay. So many giant holes in the prosecution's case were simply ignored. Photos of the shredded backpacks allegedly containing the bombs never matched the backpacks of the Tsarnaev brothers. But the fact that they did match a number of Kraft International private security contractors photographed at the scene meant nothing. When evidence of a staged "realistic" enacted event complete with role actors and stagehand direction, fake bombs and fake blood, pre-marathon announcements of a "bomb drill" confirmed by a public notice in the Boston Globe, and no real evidence that either Tsarnaev brother committed a crime as much as admitted by the feds, there is absolutely no justice left in America today!
Terrore e carcere: A SLOW DEATH FOR MUMIA ABU-JAMAL
A SLOW DEATH FOR THOUSANDS OF PRISONERS IN AMERICA
by Heidi Boghosian and Johanna Fernandez
blackagendareport.com

Political prisoner Mumia Abu Jamal nearly died – and remains in grave danger – from a diabetic condition that the Pennsylvania prison system failed to diagnose in his decades behind bars. He is not alone. "The Bureau of Justice reported some 40% of prisoners and jail inmates in 2011-2012 reporting chronic medical condition such as asthma, cancer, heart disease, high blood pressure—and diabetes."

"Mumia's condition highlights the systemic neglect and abuse of prisoners in our nation's vast and ever growing system of mass incarceration."

What does it mean for hundreds of thousands of prisoners in the United States when the world's most famous prisoner faces possible death from medical neglect in a Pennsylvania prison? Often called the "Voice of the Voiceless" for his countless publications and broadcasts revealing the injustices of the criminal justice system, Mumia Abu-Jamal has seen his health slip away in a matter of months. Thousands of supporters worldwide and frequent visitors could not stop the burning black lesions that covered his entire body or the profound fatigue that, since January, has sucked him into trance-like sleeps, or guards who punished him with denial of calls, visitors and yard for sleeping through morning alarms and the morning count. What does it say that on March 30, Mumia Abu-Jamal fell unconscious with uncontrolled—and undiagnosed—diabetes?

Terrore e carcere: THE PRISON STATE OF AMERICA
The incarcerated poor have become the nation's most exploited workers. They are the prototype drones for the corporate totalitarian state.

By Chris Hedges
December 28, 2014 "ICH" - "Truthdig"

Prisons employ and exploit the ideal worker. Prisoners do not receive benefits or pensions. They are not paid overtime. They are forbidden to organize and strike. They must show up on time. They are not paid for sick days or granted vacations. They cannot formally complain about working conditions or safety hazards. If they are disobedient, or attempt to protest their pitiful wages, they lose their jobs and can be sent to isolation cells. The roughly 1 million prisoners who work for corporations and government industries in the American prison system are models for what the corporate state expects us all to become. And corporations have no intention of permitting prison reforms that would reduce the size of their bonded workforce. In fact, they are seeking to replicate these conditions throughout the society.
Terrore e carcere: ALCATRAZ: UNA PRIGIONE COME DISNEYLAND
DI CHRIS HEDGES
truthdig.com

Ho preso il traghetto dal Molo 33 sull'Embarcadero di San Francisco per Alcatraz. Sono sceso sull'isola da una passerella, ho camminato su per la collina verso l'ingresso della vecchia prigione, e mi hanno dato un'audioguida portatile. Ho trascorso due ore camminando attraverso i corridoi e le celle dove orribili sofferenze e traumi hanno oppresso gli esseri umani. Alcatraz presumibilmente aveva il tasso di pazzia più alto di ogni penitenziario federale della sua era.

Sono stato intrattenuto attraverso le cuffie con storie riguardanti famosi detenuti di Alcatraz inclusi Al Capone, Robert "Birdman" (uomo uccello, ndr) Stroud e George "Machine Gun" (mitragliatrice, ndr) Kelly, tentativi di evasione, la rivolta armata del 1946 che fu brutalmente soppressa dal Corpo dei Marines, e gli intrepidi agenti FBI che diedero la caccia ai criminali più noti della nazione e li consegnarono alla giustizia. Su questo binario, racconti di buoni e cattivi, di poliziotti e gangster, persino il ripugnante J.Edgar Hoover è stato resuscitato come simbolo virtuoso di ordine pubblico.
Terrore e carcere: BLACK TEEN CLEARED OF MURDER 70 YEARS AFTER HE WAS EXECUTED
presstv.ir

More than 70 years after a 14-year-old African American boy was executed by the electric chair in South Carolina, a judge threw out his murder conviction.

George Stinney was found guilty in 1944 of killing two white girls, in a one-day trial before an all-white jury.

Stinney was subsequently electrocuted in the same year, becoming the youngest person executed in the United States in the 20th century. The 95-pound boy was so small he had to sit on a book when he was strapped to the electric chair.

The only evidence against the boy was a confession he allegedly made to police officers after hours of questioning, away from his parents and without a lawyer.
Terrore e carcere: LA TORTURA E' UNA BUONA COSA ?
DI CHRIS FLOYD
counterpunch.org

E' stata finalmente diffusa una parziale versione dell'inchiesta del Senato sul sistema di tortura della Cia nella guerra al terrorismo. Pur se in forma limitata, fornisce dettagli su un'operazione di abominevole depravazione, che dovrebbe gettare una nazione civile in una profonda crisi di coscienza e sollevare una profonda ed angosciata discussione su come trasformare un sistema di governo – ed una morale nazionale – che ha potuto arrivare a tali ignobili crimini. Dovrebbe anche dare vita ad un esteso impegno per sottoporre gli ideatori, gli esecutori ed i complici del programma di torture a tutte le possibili punizioni legali che essi meritano.

Inutile a dirsi, nulla di tutto ciò avverrà in America. Infatti, ancor prima che venisse diffuso il rapporto, il New York Times – la voce ufficiale e il creatore del pensiero liberale "rispettabile" per la nazione – sbatté in prima pagina del proprio sito web un articolo di opinione, che chiedeva che "noi perdonassimo Bush e i torturatori". Fu il primo "pezzo d'opinione" espresso dal Times la mattina della pubblicazione del rapporto.

Sono sicuro che entro la fine della giornata, la polvere si sarà nuovamente depositata nei suoi solchi consueti.
Terrore e carcere: IN MANY US COMMUNITIES, COPS ARE THE 'TERRORISTS'


Police need to be demilitarized and remade as 'peace officers'

By Dave Lindorff
rinf.com

The apparent murder by a white police officer in Ferguson, Missouri, of Mike Brown, an unarmed 18-year-old black youth who was shot a number of times while he was allegedly on his knees with his hands up in the air, pleading "Don't shoot, I'm not armed," is exposing everything that is wrong with policing in the US today.

The Ferguson Police Department, reportedly nearly all white, patrols a St. Louis suburban community that is largely African-American, which is already a recipe for disaster in a country that is drenched in racism. The Ferguson PD is also reportedly using the kind of aggressive policing — arresting people over minor infractions — that can quickly escalate into violent confrontations. In this case, it appears Brown's offense was jay-walking and perhaps talking back to the police officer — the first being a citation offense, and the second not even illegal.
Terrore e carcere: INVENTING TERRORISTS
projectsalam.org

This study, sponsored by two national organizations, Project SALAM (Support And Legal Advocacy for Muslims) and the National Coalition to Protect Civil Freedoms (NCPCF), focuses on post - 9/11 claims by the U.S. government that it keeps the country safe from terrorism by arresting hundreds of so-called "terrorists" who were about to strike the U.S. until the FBI foiled their plots. In fact, this study shows that there have been remarkably few actual terrorism threats to this country in the last decade.

The vast majority of arrests in the war on terror have consisted of

• the FBI foiling its own entrapment plots; or

• the government arresting people on material support for terror ism charges that effectively criminalize innocent conduct, such as charitable giving and management, free speech, free association, peace-making, and social hospitality; or

• inflation of minor or technical incidents into terrorism events, such as immigration application inaccuracies, old weapons charges, or inaccurate statements to governmental officials.
Terrore e carcere: SEGREGATION BY INCARCERATION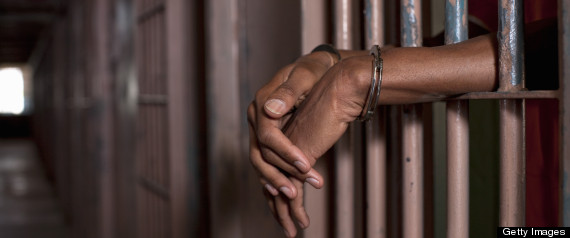 AMERICA'S NEW APARTHEID

by GARRY LEECH
counterpunch.org

Many people associate the mass imprisonment of a population with authoritarian regimes. Consequently, many Americans are surprised when they learn that the country that incarcerates more of its own citizens than any other is the United States. With 2.3 million prisoners, the "land of the free" has more people in prison than China, which has a population four times the size of the United States. A hugely disproportionate percentage of those incarcerated are African-Americans as Washington's war on drugs constitutes the latest incarnation of racist policies that have existed since the country's founding.
Terrore e carcere: THE PSYCHOPATHOLOGY OF POLICE VIOLENCE
Andy Dilks, Staff Writer
Waking Times

In a recent article for Waking Times, Julian Wash suggested that the psychopaths running the show might as well be inhuman, discussing the apparent consensus opinion that violence and war is something inherent to the human condition – it is a consensus pushed primarily by those who profit from such aggression, not the population in general. If you consider the fact that the police is the enforcement arm of the State, their increasingly out of control violent behavior towards innocent members of the public can only serve to reinforce the view that this psychopathic tendency trickles down from the top of the hierarchy and permeates throughout the system.

The evidence supporting this position is abundant. Every day, news stories are emerging concerning the latest barbaric act on the part of America's law enforcement; acts which the perpetrators carry out with apparent immunity from any kind of reprimand, let alone prosecution. Sometimes these actions are relatively mild but nevertheless bring to light the complete lack of compassion from the officers involved – this was certainly the case recently in Cleveland, where police took away a basketball hoop set up by a resident for neighborhood kids who helped her around the yard. The woman, Cheri Fiorilli, was threatened with arrest before the hoop was confiscated, and not given a single chance to move the goal into her own driveway.